On a global scale, SaaS software is being utilized by enterprises of all sizes-all thanks to its efficiency. However, there is a large number of Vietnamese businesses that are still unfamiliar with it. In this article, Enterprise management software Viindoo will guide you through everything you need to know about SaaS model-the leading focal point of the international technology market.

What is S​aaS?

SaaS is short for Software as a Service. This is a kind of commonly used cloud computing technology. SaaS is also a model designed specifically for software distribution and digital transformation platforms. Throughout the distribution process, software providers do not sell the software directly to buyers. Instead, they focus on selling the services and features of the software.

Simply put, the SaaS provider will create and maintain a fixed software on the website platform. Customers who want to access the website need to pay a fixed fee on a monthly, quarterly or yearly basis. The SaaS model is considered superior and more comprehensive than on-premise - a form of enterprise software that requires a perpetual license to be purchased.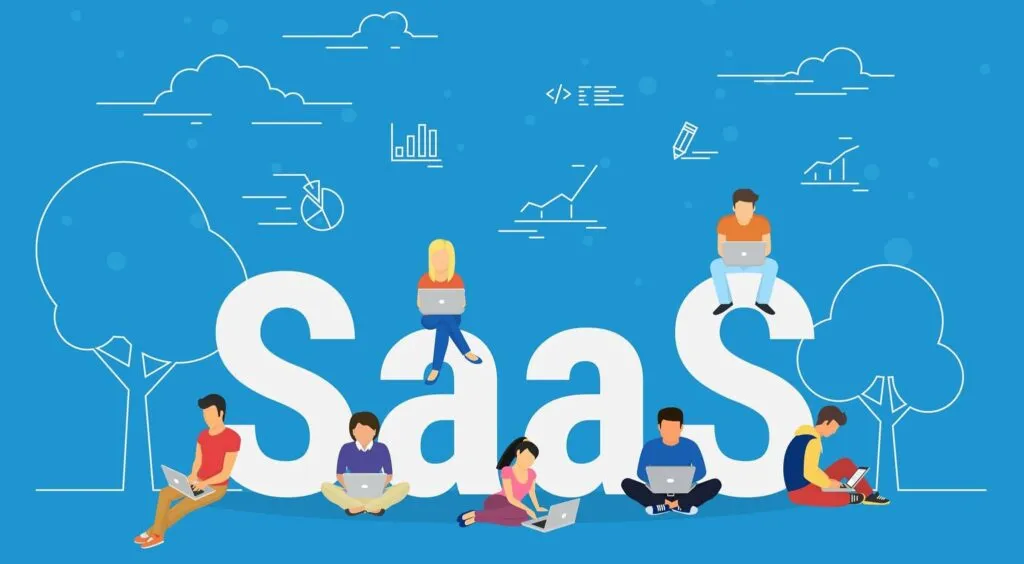 SaaS model development tr​ends

It can be said that SaaS Software is gradually taking an unparalleled position in the global technology market. Some of the most popular SaaS Software in the world are Slack, Amazon Web Services, Google, Microsoft, etc.

In a recent survey of BBC Research, it is forecast that industries based on SaaS model are to acquire an annual growth rate of up to 16.4% from 2017 to 2022, meaning that these industries will reach a revenue of $94.4 billion dollars in 2022. 
There is a universal truth that every software or every service that is being used by businesses, they can find it in SaaS providers. According to statistics of 2017, each enterprise uses an average of 16 software applications, all of which assures smooth and cost-effective operations.

Average of SaaS Apps Used Per Organization

Advantages of SaaS services

SaaS services have what it takes to assist a business in their operations, including an array of features and applications which can bring about massive revenue. The advantages of SaaS services are to be named: 
Cost reduction

SaaS software is currently provided to customers in two forms, including freemium and premium. While freemium allows users to use all features for free for just a short period of time, premium is in the form of packages based on usage time and registered account number, which you will have to pay for.
On comparison with traditional solutions like on-premise, SaaS software stands out as it can help businesses save a great deal of human resources, time and operating costs. On one hand, on-premise software needs a lot of resources, and the business downtime is six months for them to complete software installation. On the other hand, with SaaS, it only takes you two employees and two days of complete installation.

If during operation, on-premise software has problems, it means that the subsequent processes need to stop and wait. In case you do not want to use the software anymore, it is difficult to decide because the cost spent on the software is extremely large.

In contrast, SaaS software requires minimum setting and maintenance cost, hence businesses can terminate contract at any time of their fit.

SaaS software reduces setting and maintenance cost
With SaaS software, users are entitled to services including security, server availability and bug fixing, etc. SaaS software providers are to nurture a professional in-house IT team to provide the services above.

In addition to that, SaaS software users are free of any additional charge for ownership or availability of new features, as they will be updated for free. Moreover, customers are also guaranteed to own the most perfect utilities and features after each successful update.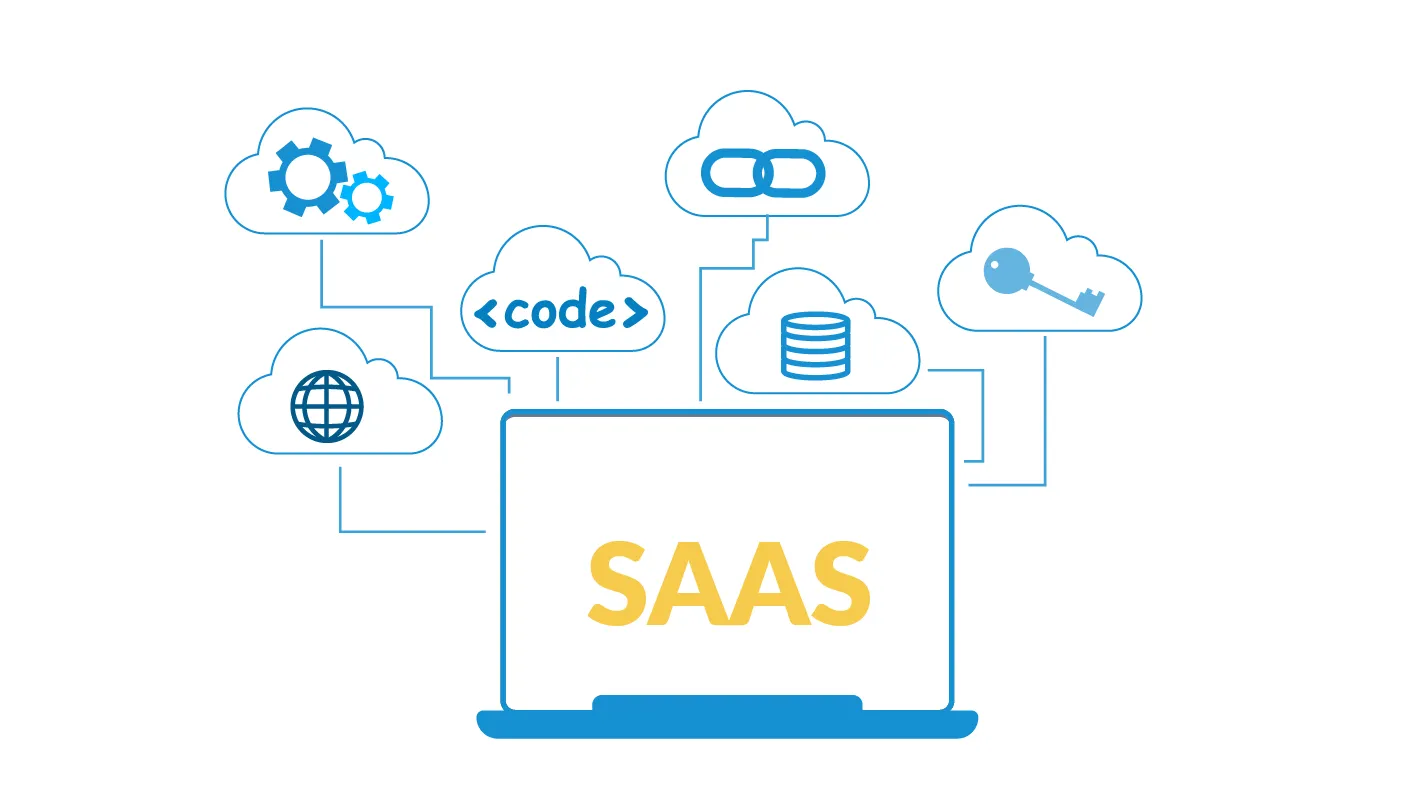 By using SaaS software, businesses are able to work anytime, anywhere as long as the devices are pre-installed with the software and connected to the Internet.

Plus, when registering to use SaaS software, business owners have the right to create additional accounts for employees in the company as long as the number of previously registered accounts is not exceeded.

Currently, in order to support users to have the best experience, SaaS providers are trying to develop software that can work well on multiple operating systems and browsers.

SaaS software can work on multiple operating systems and browsers

On-premise software is designed to operate and process data independently without any connectivity to other applications. However, time-saving and accurate results are also important features to the vitality of a business, hence the urgent need to link and exchange data and formulas between multiple applications

Therefore, SaaS software designers and providers have made data integration between different applications one of their strong points.

Currently, most of the SaaS software has an optimized API system. API can be defined as a system or an open app programming interface that allows users to identify and exchange data and files between many applications from different vendors.

High scalability

It can be said that one of the biggest advantages of SaaS software is the high scalability, which enables users to increase or decrease the number of users, applications and features installed without damaging the data or the usability of current applications.

Alongside the advantages of SaaS model, you should also be well-aware of its disadvantages that SaaS software vendors are trying to overcome.

Security

Compared to on-premise software, SaaS has lower security. With SaaS software, the main server will be located at the supplier's headquarters, not onsite. All data will be deposited and stored on the cloud environment, which exacerbates the fear of information leakage.

However, now SaaS software providers have been focusing more on data encryption and providing security provisions for customers. Business owners should double-check the company's security before deploying any SaaS software.

Internet dependency

To be able to use SaaS software, users' devices must be connected to the Internet. In the event that the Internet is disconnected, usage of the software will be interrupted.

This can be a pretty big drawback for fastidious business owners. However, for those who regularly use Gmail, Wechat, Zalo, etc. then Internet connection is a must.

SaaS software must be connected to the Internet

Viindoo SaaS to Provide comprehensive services and solutions

Viindoo SaaS is a software that is leased to users on the cloud computing platform. Viindoo SaaS will help businesses run and support administrative activities on only one platform. The advantage of this software is that users can easily access it at any time, on both mobile devices and PCs.

Check the table as below for the comparison of traditional software and SaaS software:



Traditional software​

Viindoo SaaS

Initial investment cost​

Server & infrastructure ownership cost 
+ operating cost 
+ server room cost 
+ bills of electricity & internet 
+ cost for operating and maintenance team.

None

Cost incurred

Upgrade cost 
+ maintenance cost 
+ repair cost 
+ new installation cost

Software monthly rental cost by period

Access

Only on installed devices

On many types of devices as long as they are connected to the Internet.

Support

On-premise

Online

Security

Enterprises manage their data. The level of security depends on the ability of the company's dedicated IT team.

Data is stored on cloud computing platform and backed up automatically, ensuring risk reduction and quick recovery.

Scalability

Fixed and limited features. Limitation to updates and, expansions.

Automatic feature updates. Ability to integrate with third parties.
Outstanding features of Viindoo Saas:
A team of experts and technicians with more than 10 years of experience to bring customers the best technology solutions
Stringent security
Efficient feature
Companionship commitment

Ready to experience the excellence?
Viindoo SaaS
eliminate worries about software, infrastructure, technology. Subscription-based pricing with unlimited features. Support 24/7.
TRY NOW - It's free!
    or 
Contact us
SaaS software - Yes or No?

Comparison of Saas, PaaS, IaaS và SaaP

| | | | | |
| --- | --- | --- | --- | --- |
| | SaaS | PaaS | IaaS | SaaP |
| Stands for | Software as a Service | Platform as a Service | Infrastructure as a Service | Software as a Product |
| Feature | Is a cloud computing model that distributes all software and provides as a service. Customers can access it via the internet, such as Freemium (free) or Premium (paid) | Developers provide software as products. Customers will have to spend money to buy it if they want to use it. In addition, users also have to pay for hardware costs, maintenance, updates, and storage. | Is software that provides a platform for developers or programmers to build their cloud. This software can help businesses reduce the cost of purchasing and managing hardware, software, and storage | Providing technology resources for every business. |
| Product | Google Drive, Prezi, Dropbox | Microsoft Office | Google App Engine, Windows Azure | Amazon Web Services, VMware |
| Customers | Those who have the Internet | People who buy products | Programmers, Developers | Tech companies and developers |
Offline installation or SaaS?

To make a choice between these two options, business owners need to answer the following questions:

What makes your business different from other businesses in the same industry?
Does the current software have the utilities that you are looking for?
Software suitability for businesses
Choosing Between a SaaS or On-Premise

Is SaaS open for customization?

Currently, SaaS software has been updated with the latest features and has enough flexibility to help users customize. They can adjust the system and data according to their wishes. In addition, you can hide or show your custom features.

Are SaaS and Cloud computing the same? 

SaaS software can be seen as a "subset" of the cloud system. However, not most SaaS software is integrated on the cloud system. The product itself will mostly be used and accessed by users through web systems.

Nowadays, almost all core business functions of an enterprise from human resources to resource planning are available on a SaaS system.

Is SaaS data on the Cloud secure? 

Data on the cloud system is as secure as that of user's internal business methods. While SaaS providers have been following industry best practices and regularly upgrade security, perform maintenance. However, they have no control over how users handle security.

Even if the user is using the leading services of SaaS, your data can still be hacked if someone uses a compromised password and shares the login information. Failure to use anti-virus or malicious software on the device is also a major problem.

Through this article, Viindoo has provided you with complete and accurate information of SaaS software. Hopefully, you will have a better overview of the SaaS model and the outstanding benefits that SaaS brings to businesses. Contact Viindoo if you have any questions and need more information!
>>>> See More: