Viindoo Time Off - Employees absence management
Paper-free leaves request and approval. Enable automatic payroll calculation based on absence duration.

Various employee absence types
Employee leaves: Paid Leave, Unpaid Leave, Sick Leave, Maternity Leave...
Other purposes: Work from home; Time-off due to health conditions...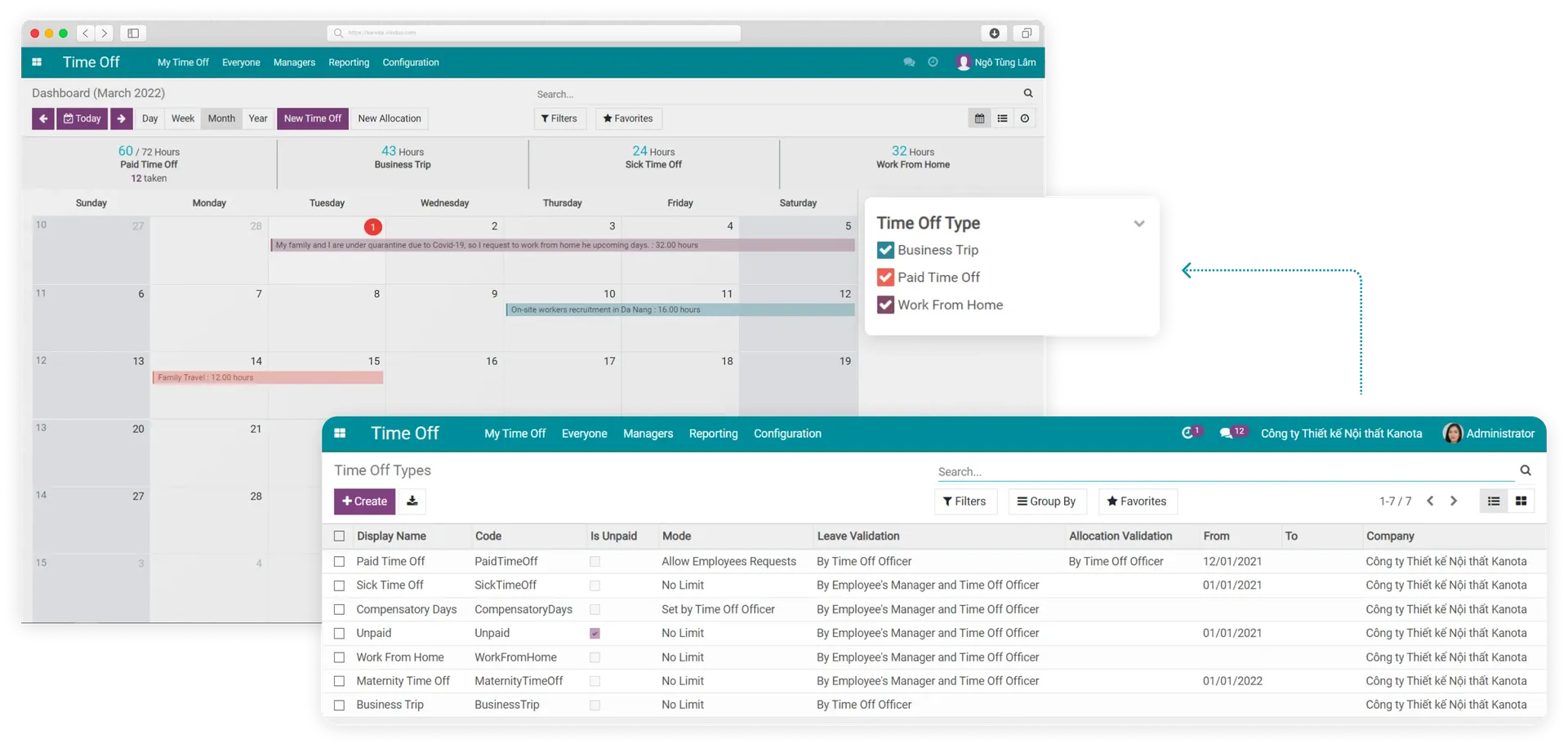 Online request and approve time-off
Employees can request new time off allocation themselves, or create new time off based on configured types of leave.
Require employees to fill in all information: Time off, Reason for leaving, Related projects, etc. in Time Off Requests. Store all notes and messages between managers and employees in the chatter. Provide managers a full basis to decide whether to Approve or Reject.
Simplify processes of requesting and approving time off without calls, messages, applications, etc for permission.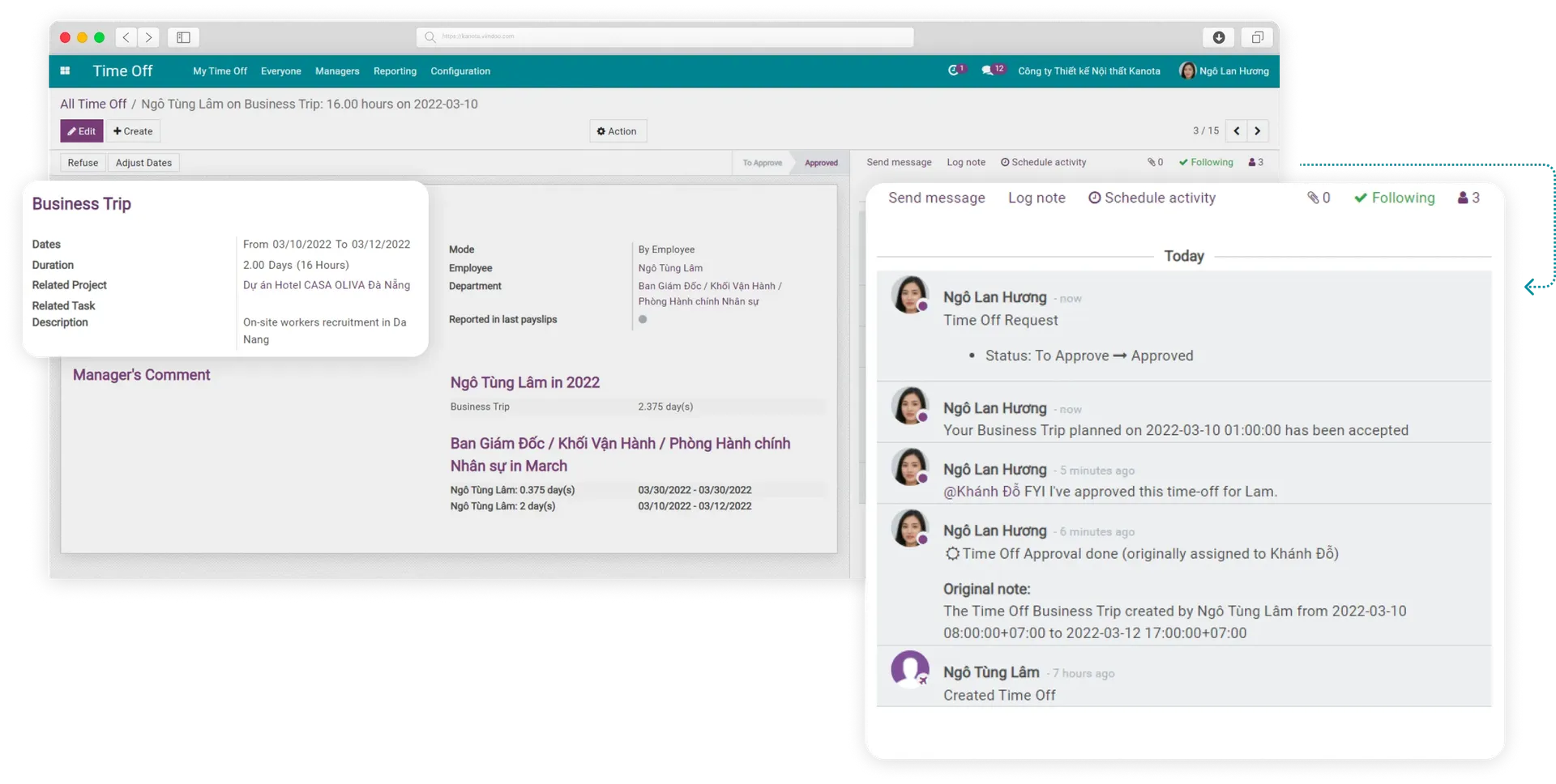 Automatic payroll calculation
Automatically record and display hours of time off and the remaining (if available). Eliminate manual calculation and errors.
Link directly to the Payroll application, combined with the salary rules for each leave type to calculate the exact employees' salary amount.
For Business purposes or Work from home time-off request, the employee costs will be automatically included in the related project/ task. Manager can accurately calculate the profit-loss of each project.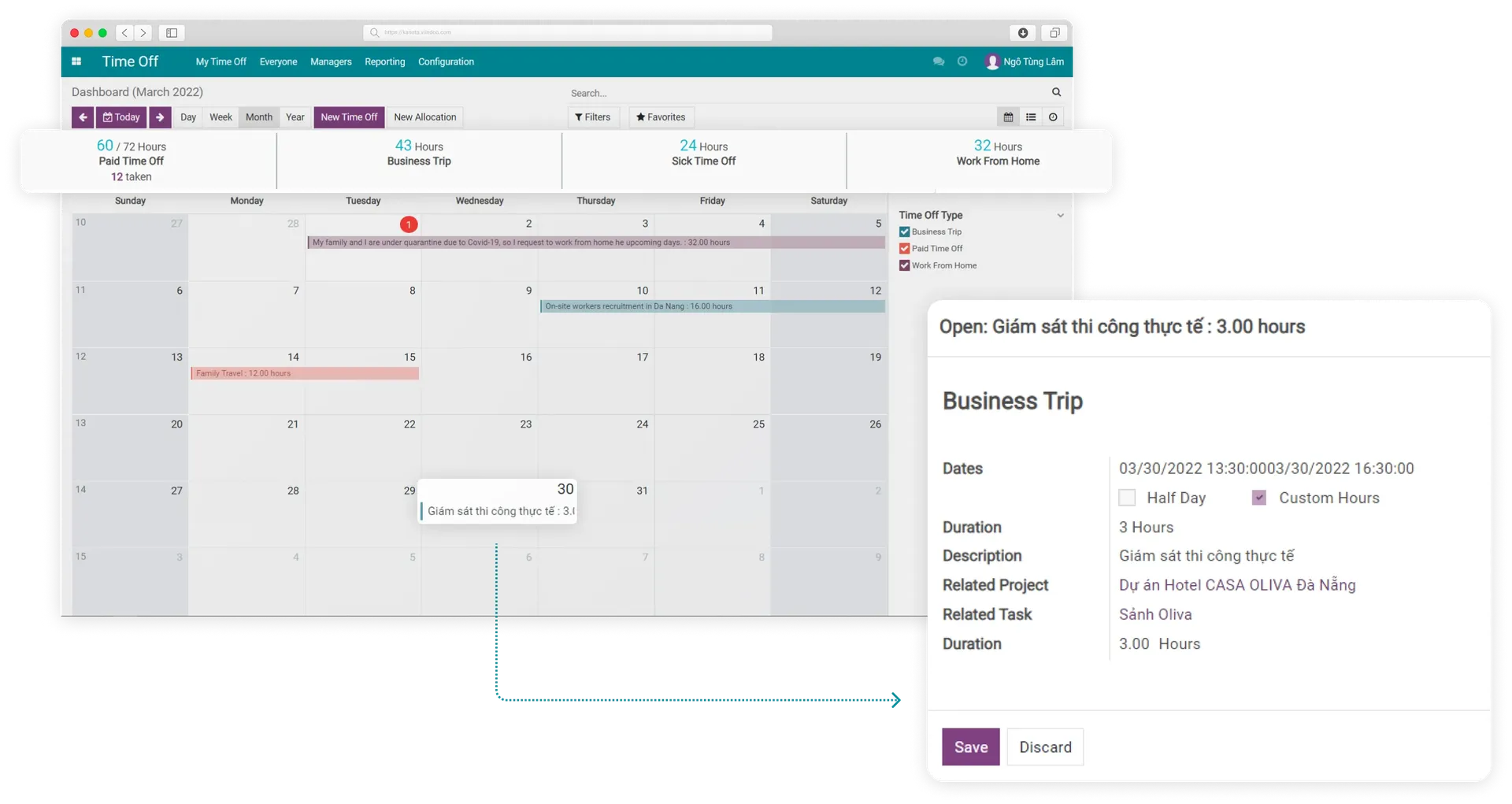 Automate all related schedules, activities during employees' time-off
Automatically create the employees' time off on company calendar, depending on settings of Time Off Officers. Meanwhile, display a special icon on the chatbox of company's discuss, supporting others to arrange related work accordingly.
Automatically cancel employee meals based on approved time off.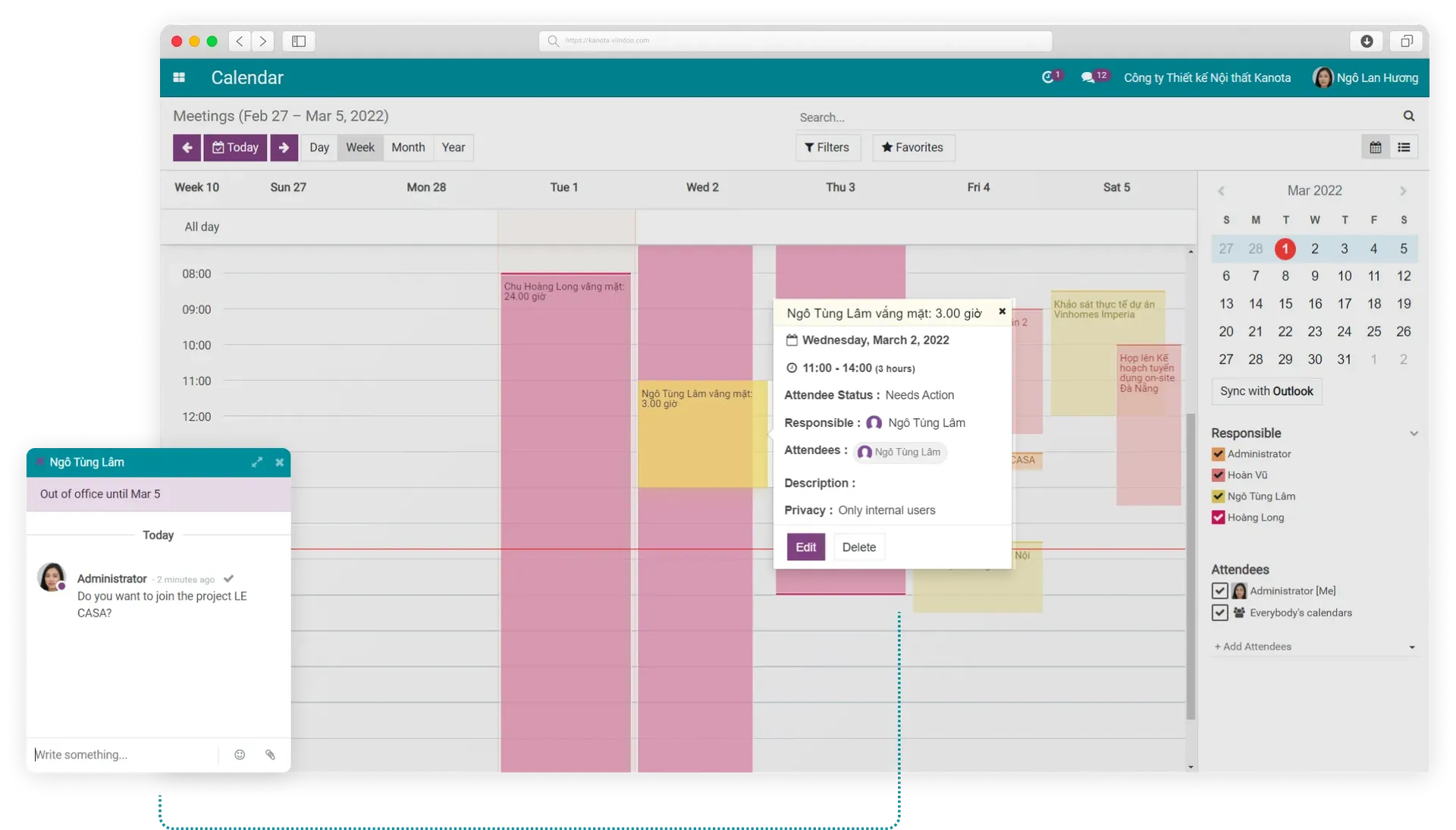 Automatically aggregates all time-off information of employees, departments: time off, time off type, status, etc.
Allow managers to track and compare employees' time off insights, creating a basis for adjusting human resources policies accordingly. Easy to plan and coordinate human resources for departments or the whole enterprise.
Visualized reports displayed in Calendars view, Dynamic Pivot Tables or bar charts, pie charts. Easily search, filter, group data according to viewer needs.
Fully integrated with other Viindoo applications

Payroll
Record & manage the work time, and automatically calculate the project's cost.


Calendar
Display the time off, leaving time of any employee on public schedule.

Employees
Appoint the suitable superiors who can validate time off requests.

HR Meal
Automatically cancel employees' meal orders based on approved time off .
Explore Viindoo Time Off
15-day FREE TRIAL now!
---
Fast & Easy
Instant Access. No Installation.
Unlimited Functions
A Total Solution for every need.
Flexible Scalability
Compatible with all company sizes.
Optimized Expense
Reasonable cost for all types of budget.
Need help?
Contact us: +84 225 730 9838
Sign up and start your trial