Increase work efficiency with Viindoo - Viindoo Calendar

Arrange appointments simply

Control schedules entirely

Integrated with Google Calendar, Outlook, Zoom
More convenient in managing appointments, providing flexible working utilities.
Integrated with Google Calendar, Outlook

Automatically sync all scheduled appointments with Google Calendar, Outlook.
Receive appointment or meeting notifications without logging in.

Integrated with Zoom

Automatically create a Zoom meeting link and sync with the meeting in the Viindoo system.
Send emails with a Zoom meeting link to attendees.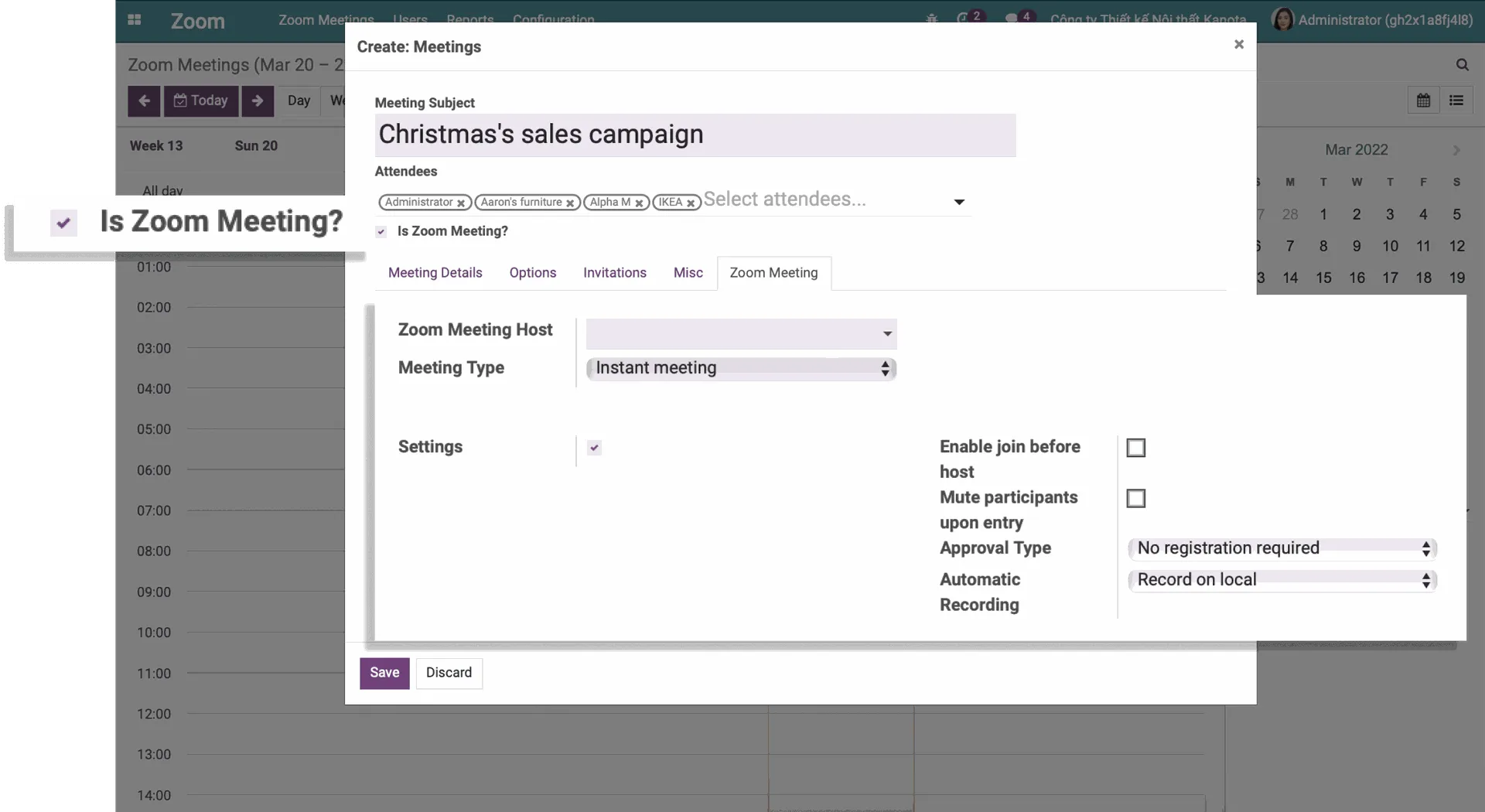 Set up quickly, control every appointment
Add attendees to sync scheduled appointments on Viindoo Calendar
Allow setting time, duration, location, etc. help attendees actively follow and get detailed information about the scheduled meeting.
Set up notifications in the system or via email to remind all attendees.
Track all scheduled appointments in the view of Date, Month, and Year.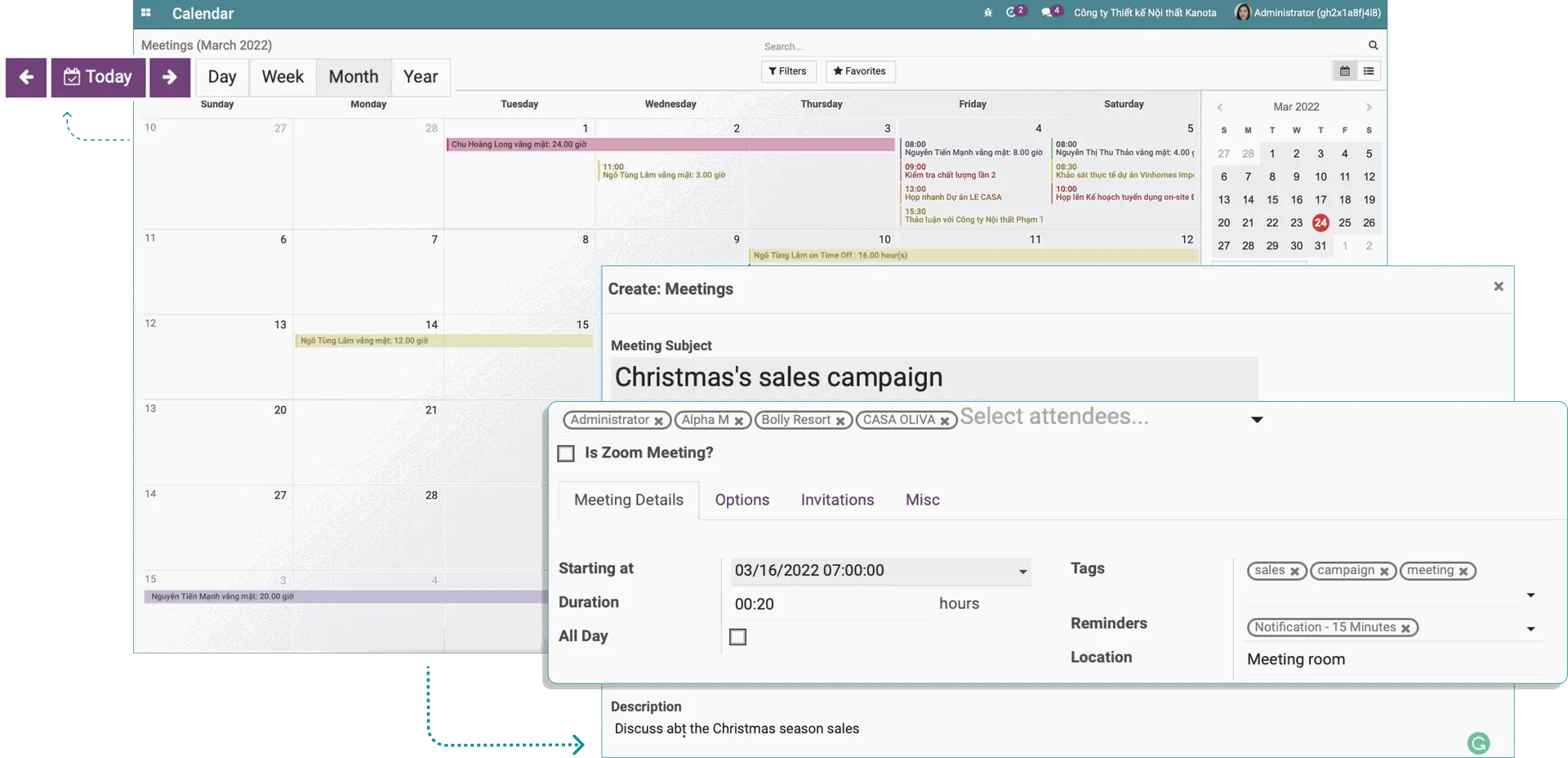 Access Viindoo Calendar on your mobile devices

Support a flexible and diverse working style. Quickly check on schedules on mobile devices anytime and anywhere.

Simple customization and operation
Adjust appointment schedules easily with drag-and-drop . Save changes and send notifications to attendants immediately and automatically.
Reduce manual work with
recurrent
settings, record a schedule with a few simple clicks on Viindoo Calendar.
Control and grasp the whole calendar of the enterprise
Increase efficiency, support collaborative work and enable managers to have an overview of each employee's schedule.

Integrated with other applications to record activities to Calendar as Event application, Time-off application, etc.
Grasp the whole schedule of colleagues and visualize with different colors.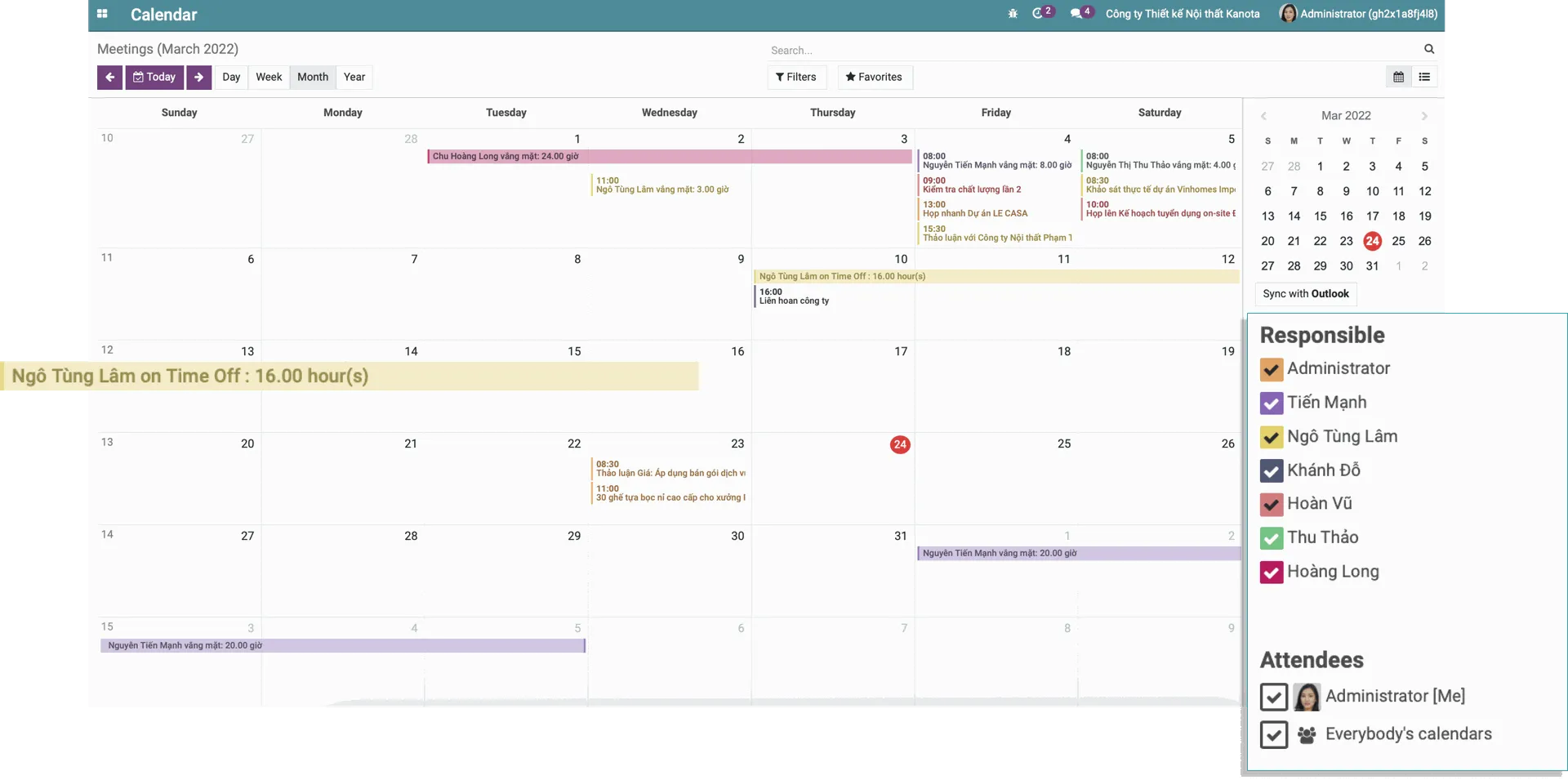 Fully integrated with other Viindoo applications


Project Management
Easily analyze the assigned task & manage the prediction, staff on any stage of the project.
Employee

Monitor your employee contacts, save the important data of your group.
Time-off
Manage employee time-offs, automatically update and display the information on the public timesheet.

Payroll
Set up your pay-list and calculate salary for each employee based on salary standards.
Get FREE Viindoo Calendar forever

Start now to increase the competitiveness of the Enterprise