Key features of Viindoo Sales Management software
Product and service management
Viindoo Sales helps manage thousands of products/SKUs by classifying them into multi-level categories and importing data in bulk.


Fully display product information with many attributes (size, color, version, etc.) and images to help customers easily choose the right product.


Growth your revenue with Cross-selling: Automatically suggest optional products, additional accessories, etc. All are displayed in Viindoo Sales.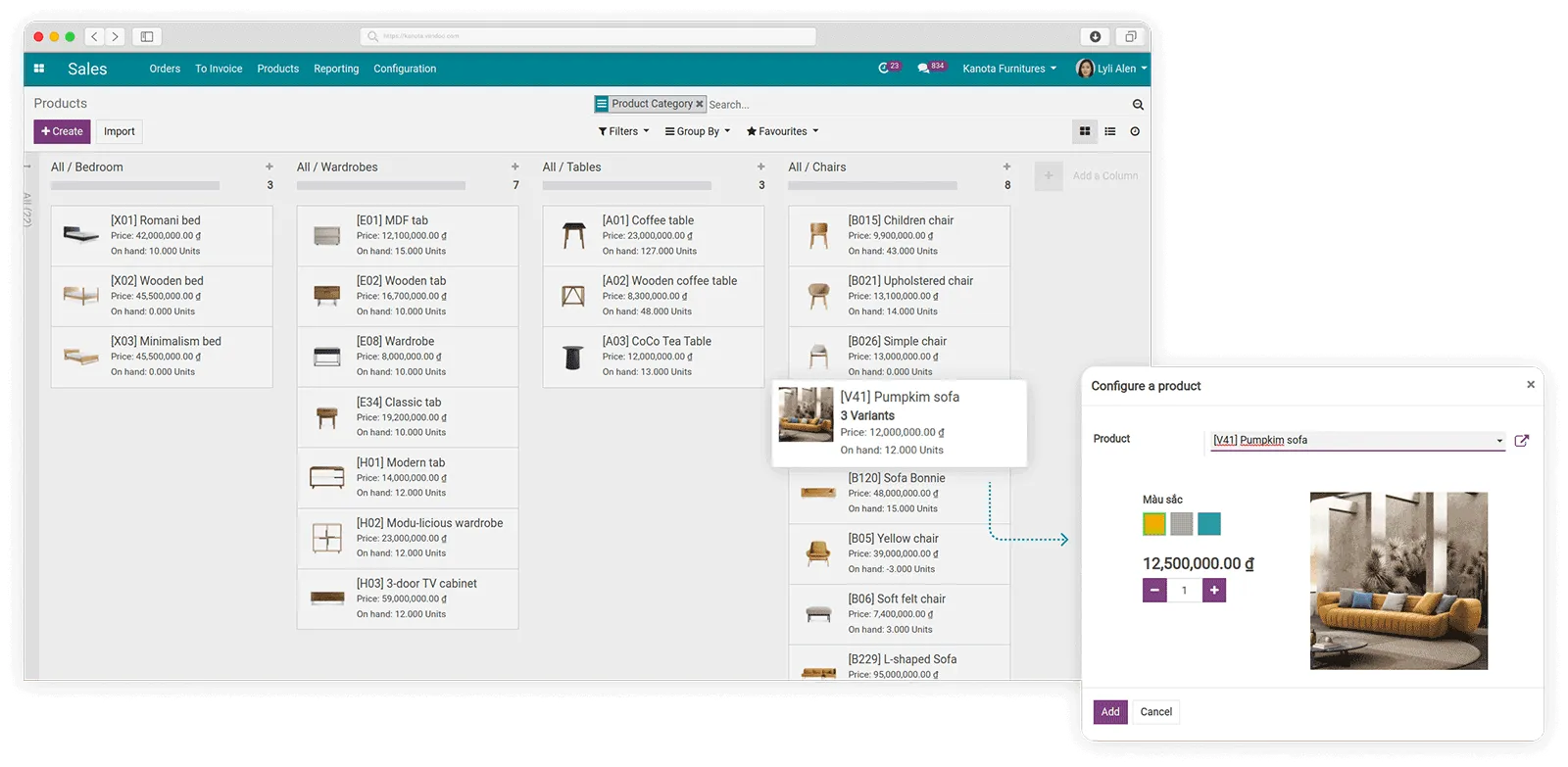 Plan price strategy with multi-pricelist

Offer products at different prices based on customer segments and target markets with multiple pricelists, such as Retail pricelist; Merchant pricelist, Europe pricelist, etc. Automatically calculate prices following configured formulas.

Formulate pricing strategies from details to overall, for each period and sales season. Take care of VIP customers and partners better with their private pricing policy, automatically applied when creating orders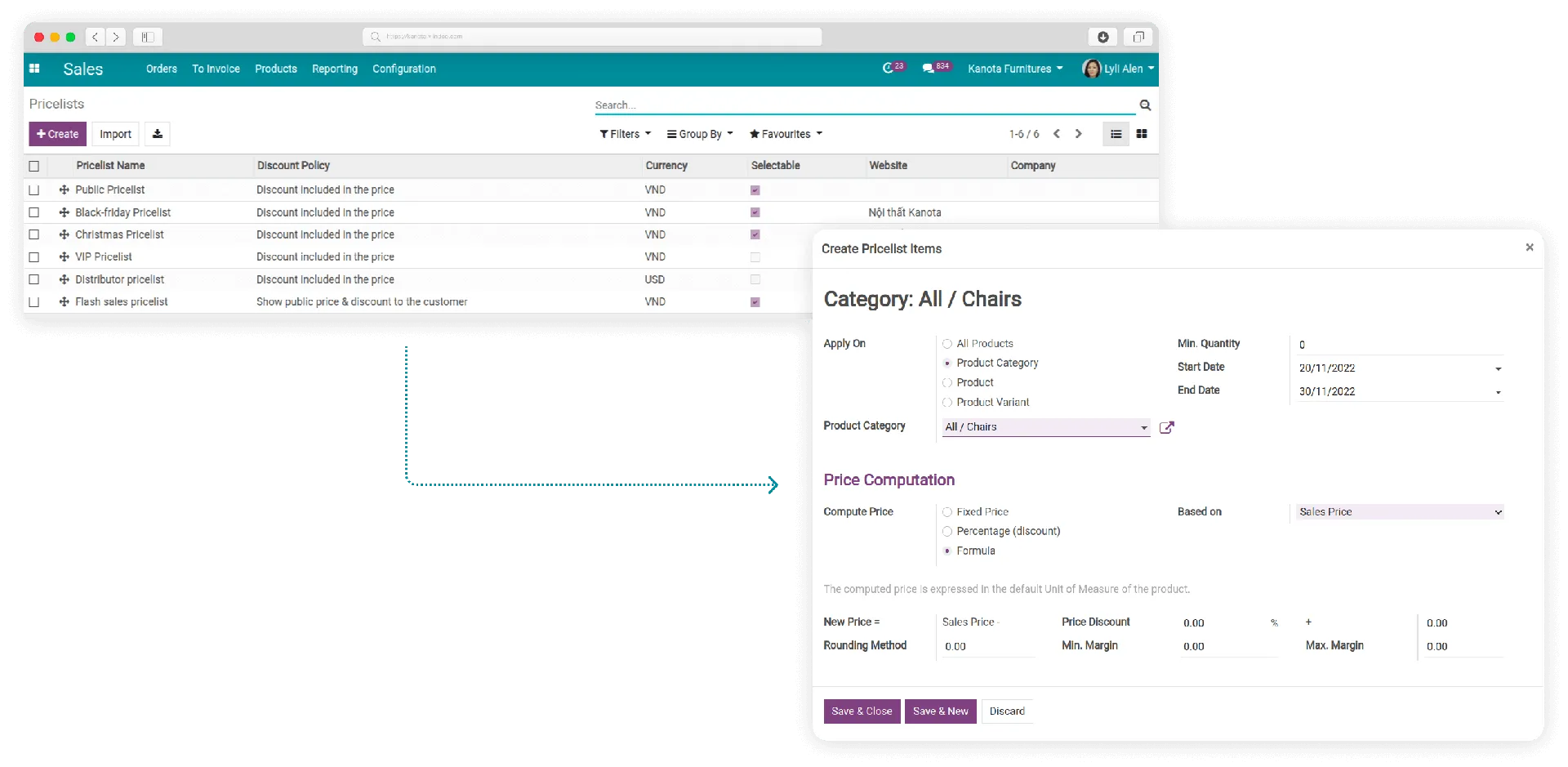 Quickly send quotations, speed up selling process

Save time creating Quotations with available Templates, instantly send Quotation to potential customers at one click on the "Send by Email" button.


Save and Show all the internal discussions, and customer responses directly on Viindoo Sales, which is convenient for data analysis and price decisions.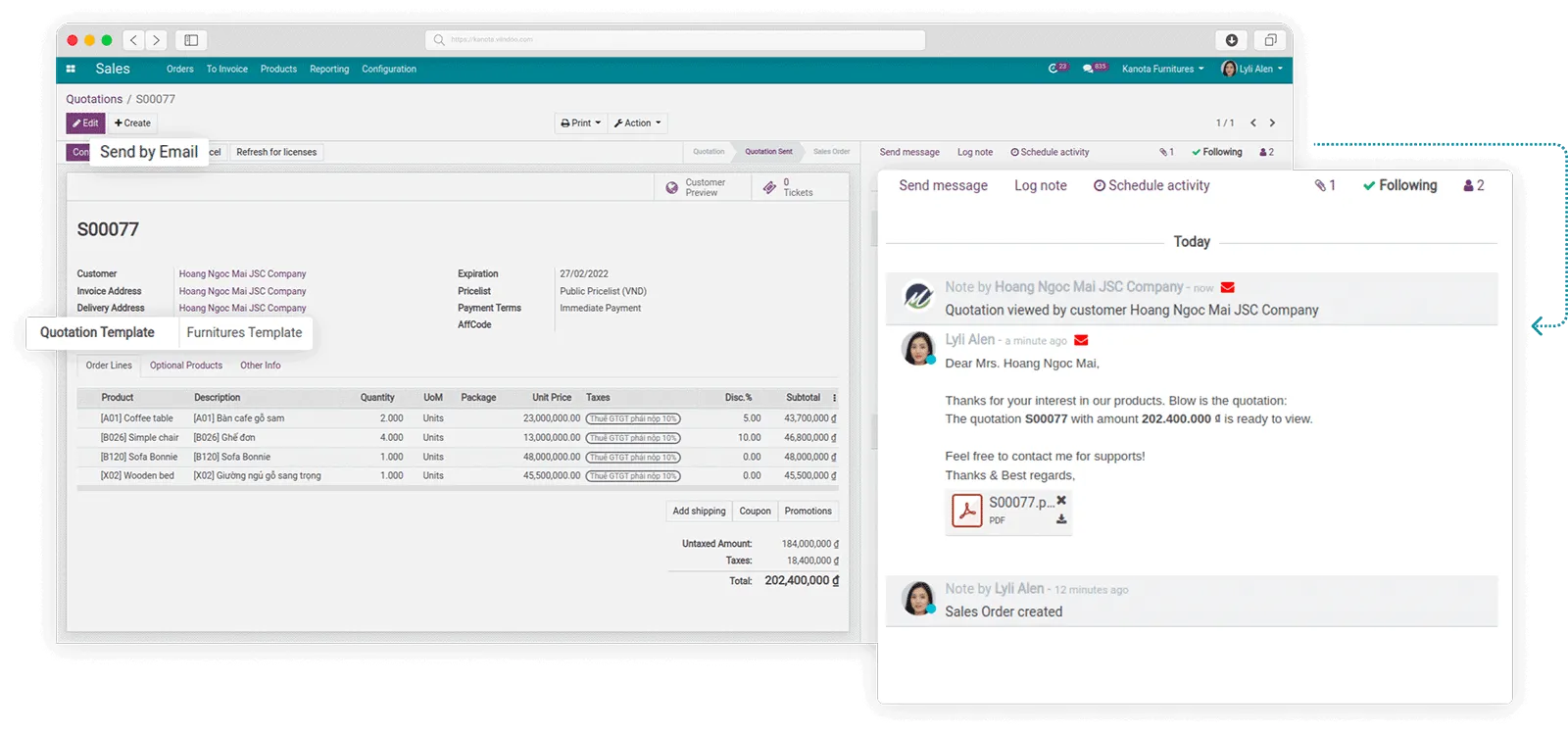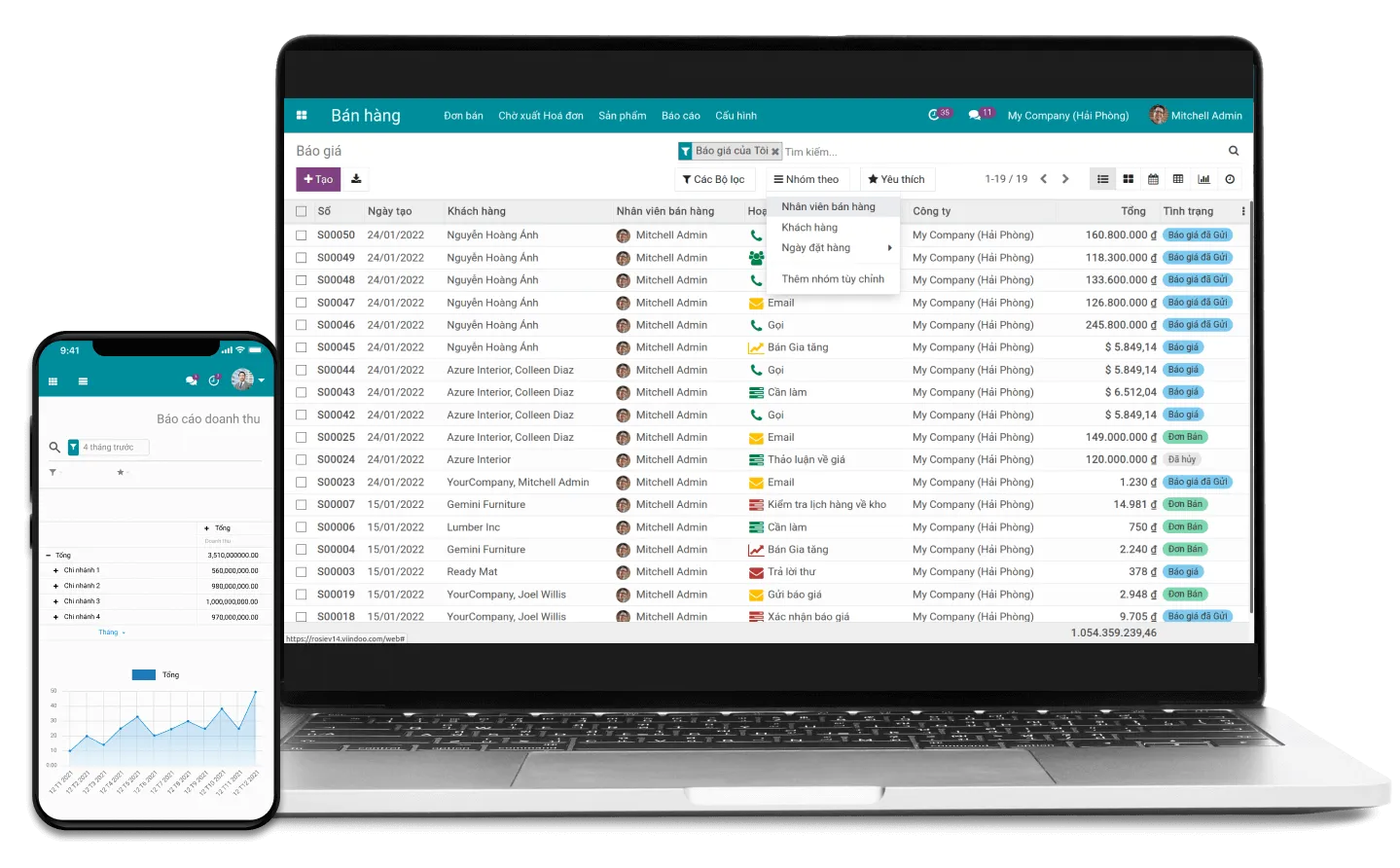 Convenient sales management software Viindoo Sales anytime, anywhere on any devices

It's FREE. Just with the internet and Viindoo Mobile App.

Leverage customer experience with online portal

Customers can preview Quotations and respond directly right on impressive portal view.

Increase close-deal rate by highlighting discounts, suggesting additional products, and easily signing to confirm the deal. Integrate with many online payment methods (credit card, bank transfer, Paypal, etc.).

Customers can check their quotations, orders, and deliveries anytime, anywhere with Internet-connected devices.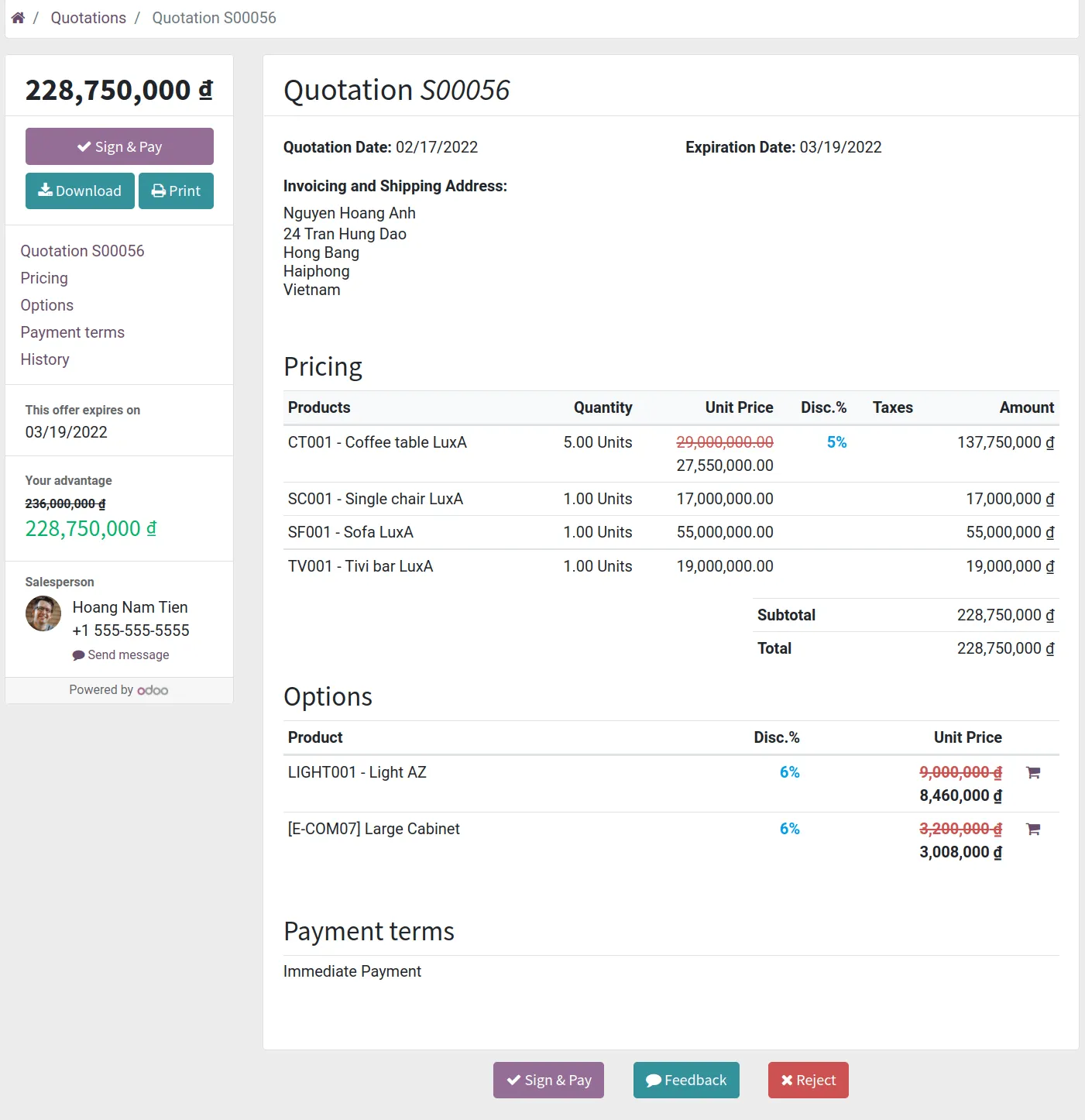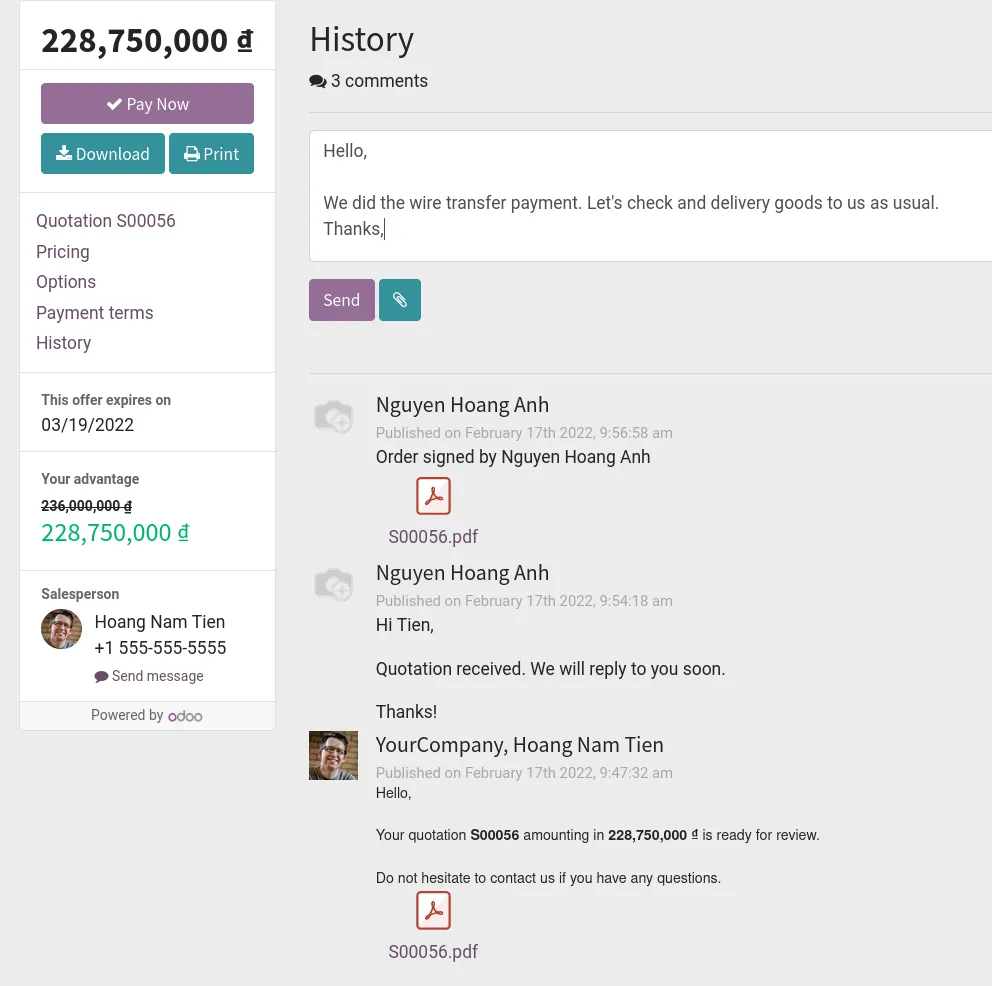 Monitor Sales team performance

Manage salesforce by teams or geography, set up targets and monitor teams' performance til closing deals.

Grant access rights to customer data by team and position, preventing unfair competitions

Enhance teamwork and internal communication by discussing right on the quote/ sales order, reduce the burden of reporting and presentation.

Follow up every step in the customer care process. Chase the Sales target. Timely motivate the team.


Visualized sales analysis reports
All data reports are completely accurate and automatically updated in real-time.

Easily customize your own reports with smart measures and filters.
Visualize data in diverse charts (line/ pie/ bar charts) and filter them with a Pivot table.
Analyze customer behavior, evaluate trends and shopping habits by segments with Cohort charts.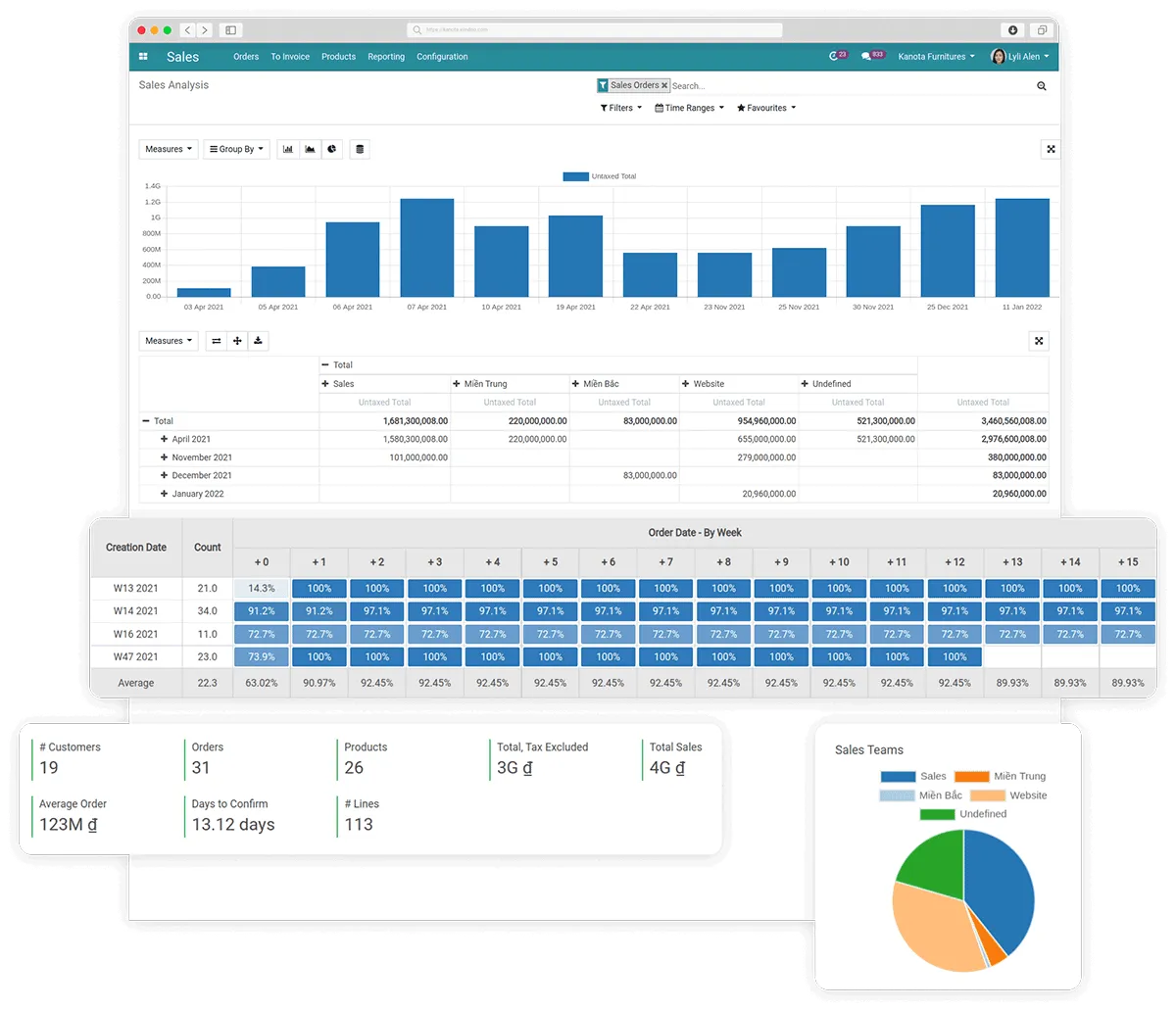 Is Sales software easy to use?
Yes, Viindoo Sales is designed to be user-friendly and easy to use. We offer training and support to help users become familiar with the software and its features.

Resource for Business owners

Effortlessly oversee your business operations across all locations, in-store and online, providing peace of mind even when absent

The rise of big data and advanced retail analytics helps retailers leverage data-driven insights to make smarter, more informed decisions.

The rise of big data and advanced retail analytics helps retailers leverage data-driven insights to make smarter, more informed decisions.

Inventory management in retail refers to the process of monitoring, tracking, and controlling the flow of goods in and out of a retail store.

Start with Viindoo to increase the competitiveness of the Enterprise