Following "Just-in-time" supply chain, Purchase application in Viindoo - the All-in-one Enterprise Management Solution helps to:
Closely manage the purchasing process, improve the supply chain.

Easily compare, select Vendors with competitive offers.

Grasp information quickly, make accurate and timely decisions.

Keep track of the overall purchasing process and purchase history of each vendor.

Manage Requests for quotation and Purchase orders
Easily manage all Requests for quotation and Purchase orders in overview with all necessary information and employees' activities.
Automatically suggest purchase agreement by predefined rules (MTO or MTS reordering rules).

Customize filters and group data (by Purchase Representative, material type, supplies, goods or Vendors, etc.), tracking the purchase workflow and transaction history.
Set purchase orders approval rules by minimum orders amount; take control of the approval process at a high-end level.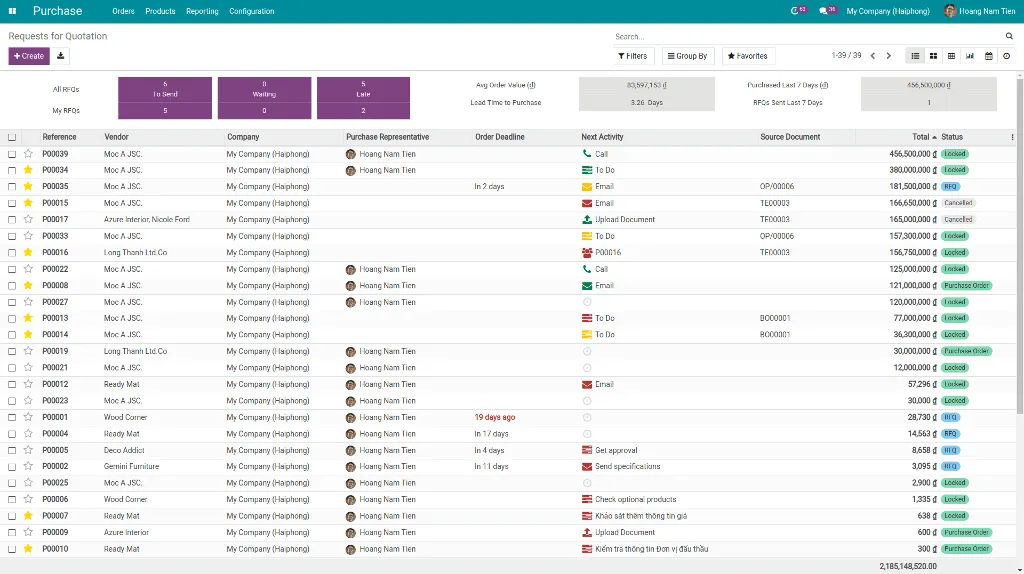 Work collaboratively, discuss internal information and get replies from partners right on the purchase order view.



Automatically set stock receipt flow (draft receipt) when the purchase orders are confirmed, helping Inventory department catch on all information instantly, arrange workforce and storage space.

Link data, integrate payment terms with
Accounting
application, ensuring
on-time payment, managing vendors' account payable and account receivable.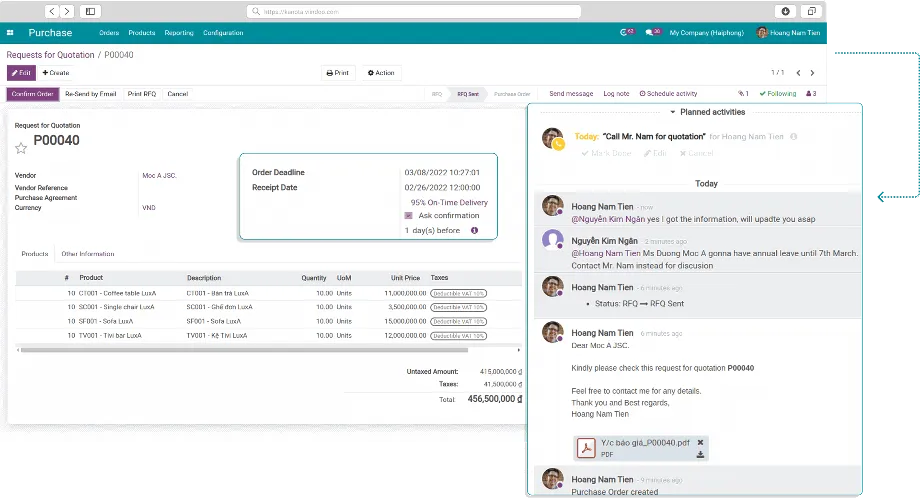 Vendors information management

Digitalize Vendors' information, easy to search data anytime, anywhere.
Manage price lists and transaction history,
helping businesses evaluate vendors' capacity to select the one with the best offer.
Analyze delivery time of each vendor, helping managers set appropriate purchasing plans, make sure of order time, control on-time delivery.

Call for tenders and purchase contract management
Call for tenders feature helps you easily create a request for quotation and send them to many Vendors.
Manage tender contracts,
compare prices, delivery time, vendors' quality and prestige, etc. to make accurate and objective decisions.
Manage purchase contracts with Blanket orders feature:
bulk orders
to take advantage of good price and
partial delivery.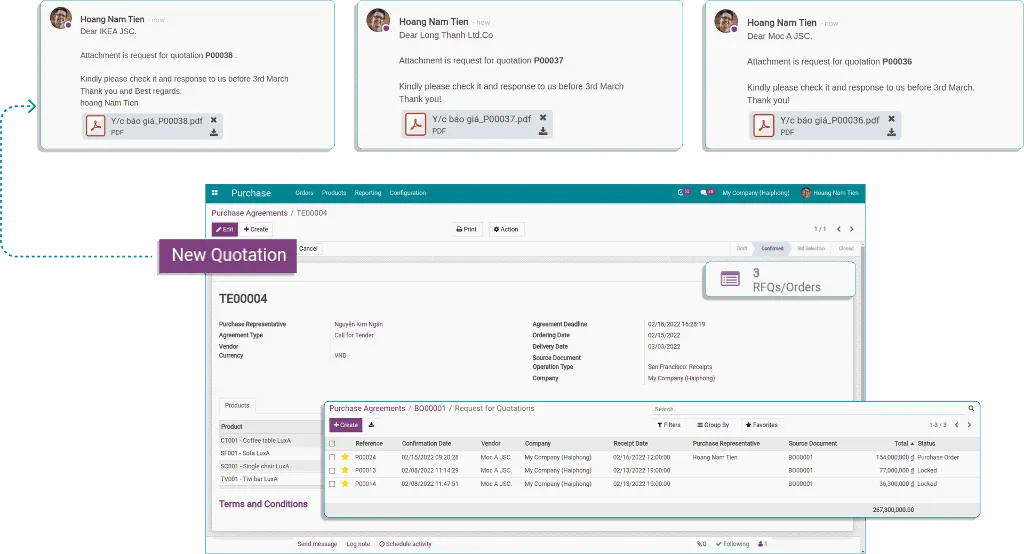 Automatic report in real time, multi-criteria purchasing analysis
Analyze purchasing activities by date/month/quarter/year. Automatically compute index: average price, order processing time, quantity received/not received, etc.
Customize reporting criteria to aggregate purchasing data by items, vendors, or representatives, etc.
Display report intuitively, easy to track with dynamic Pivot table, line chart, pie chart and bar chart; export to Excel.
​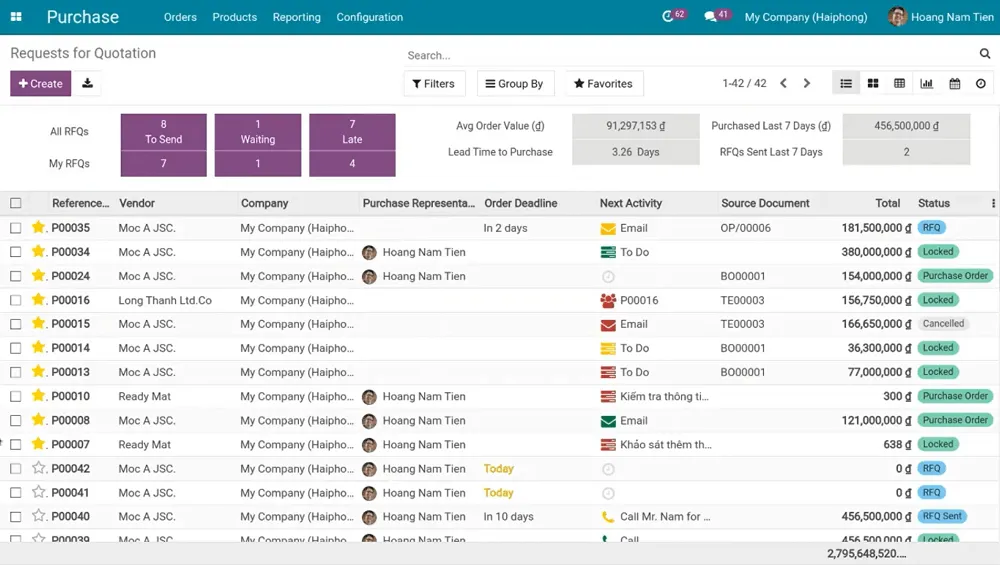 Fully
integrated

with other Viindoo applications


Accounting
Precisely and timely control by integrating order requests and invoices.

Invoice
Convert orders into supplier invoice for faster payment.

Inventory
Control stock activities, synchronize data, reinforce supply order when necessary.

Sales
Manage your price quotations, invoices, stock and customer payments.
Start a FREE 15 days trial of Viindoo now!
---
Fast & Easy
Instant Access. No Installation.
Unlimited Functions
A Total Solution for every need.
Flexible Scalability
Compatible with all company sizes.
Optimized Expense
Reasonable cost for all types of budget.
Need help?
Contact us: +84 225 730 9838
Sign up now to start the trial