Viindoo SCM Software - Solution for Supply Chain Management
Connect every aspect of an supply chain with standardized process and automated rules.

Give business the big picture. Respond to the ever-changing landscape of the market and improve the competitiveness of businesses.

Enable an open system which integrates every module, from Purchase, Sales, Inventory, Manufacturing, etc. on only one platform.
Struggling with Supply Chain Management?
Broken information, no connection, ineffective communication between suppliers, partners, customers, etc. in the supply chain?

Difficulties in gaining insights and predicting market's demands to keep enough inventory and meet customer's consumption trends?

Unable to keep track of merchandise flow in real-time, hence untimely distribution and rotation?


No optimized solution available, resulting in high transportation costs which accounts for a large proportion of the product's cost, affecting the price competitiveness?

No process and planning to manage supply - demand, input materials, output products, etc., leaving businesses in a passive position with risks in the supply chain

5 factors to help businesses build optimal and efficient Supply Chain

Overall strategy design

Viindoo SCM helps businesses collect, analyze, and assess customer trends and needs through data on location, purchase history, website visits, etc. to address needs and design an overall strategy.

Sales process setup
Building and developing an optimized and automated sales process with Viindoo SCM helps your businesses control order status closely, hence minimizing risks and optimizing costs.

Supplier network setup

To ensure an uninterrupted supply chain, Viindoo SCM supports businesses to build a network of suppliers, and helps to compare and evaluate supply capacity to select suppliers with competitive prices.
Inventory management
Viindoo SCM enables businesses to control import - export - stock and supply the right merchandise with the right number within the right amount of time to meet all needs of customers and serve the distribution strategies of enterprises.

Technology implementation
Viindoo SCM is an all-inclusive solution for supply chain management and integration and an effective tool for businesses to improve their performance, connect operations, and automate operations across the supply chain.

Standardize Supply Chain Operations with Automated Rules
Save time & effort and optimize operations to improve efficiency across the supply chain.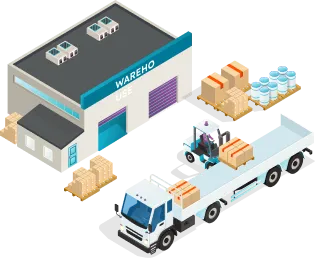 Set rules to activate replenishment requests:

Make-to-order

Make-to-stock
Automate replenishment process in multiple methods:

Buy from suppliers;

Manufacture or Outsource;

Stock transfers among warehouses;

...
Record all landed costs and automatically create allocation journal entries to a djust stock price.
Support multiple inventory valuation methods:
Standard Price;

FIFO;

Average cost.
Enable automatic deliveries with logistics methods like Drop-ship and Cross-dock.
Viindoo SCM - All-inclusive Solution for Supply Chain Management and Integration
An important link in the business management system of the digital age, providing the overall picture, responding to the ever-changing landscape of the market and improving the competitiveness of enterprises.

Connect every aspect of the supply chain
An open system which integrates and manages every apps in only one Viindoo platform

Sales & Purchase Management
Transparency, flexibility and maximum value creation for the Supply Chain



Coordinate operations across departments of the enterprise, providing an overall picture, responding to the ever-changing landscape and enhancing competitiveness for businesses.
Enhance logistics control.
Enhance collaboration efficiency throughout the supply chain.
Enhance the ability to control and evaluate efficiency on each stage in the supply chain.
Increase transaction volume through accelerating real-time data exchange.
Increase sales with effective customer responsive implementation.
Reduce operating costs across the supply chain from transportation, distribution, to warehousing, and more.
Reduce product costs and improve profits for businesses.
Minimize risks and respond quickly to changes in the market and consumer needs.
Improve customer service and increase business competitiveness.
Viindoo SCM solution - trusted by many enterprises
Start a FREE 15 days trial of Viindoo now!
---
Fast & Easy
Instant Access. No Installation.
Unlimited Functions
A Total Solution for every need.
Flexible Scalability
Compatible with all company sizes.
Optimized Expense
Reasonable cost for all types of budget.
Need help?
Contact us: +84 225 730 9838
Sign up now to start the trial