Viindoo Enterprise Management Software
Modern, lean and integrated Viindoo Enterprise Management Software, satisfying all needs of enterprises in the digital transformation era.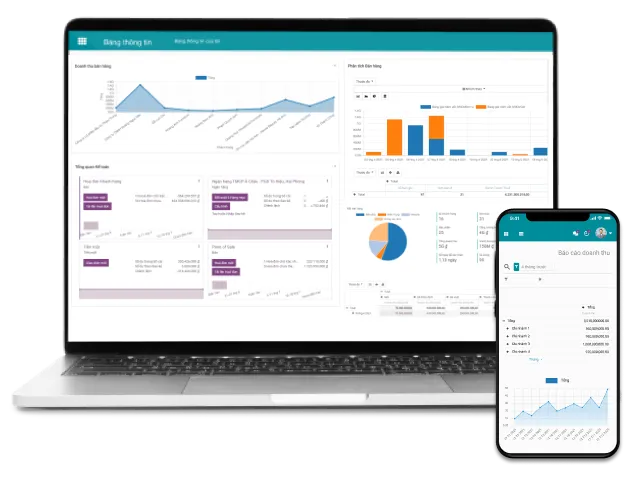 Viindoo Enterprise Management Software flexible for all needs
The only platform that integrates all of your enterprise needs. Each app and feature is powerful, but all become excellent when combined.

Viindoo SaaS
No more worries about software systems and technology infrastructure. Viindoo enterprise management solutions help businesses focus on enhancing operational and administrative efficiency.​
Costs based on the actual number of users.
Flexible on many devices such as laptop, phone, tablet, etc.
Find more Services for your Business

Used and trusted by large enterprises
Scalable enterprises that choose Viindoo Enterprise Management Software for efficient work.



Viindoo has strengths in technology, professional team, and effective deployment methods. We receive support, detailed deployment planning, personnel arrangement for each stage, and maximize efficiency while saving time for both parties. I evaluate the ERP implementation to be very successful.
I am so much impressed and moved by your timely and impactful replies.

The digital transformation journey of X20 Nam Dinh is in an urgent stage; fortunately, X20 had opportunity to meet and know Viindoo. We would like to have a modern management tool to manage production in a methodical and focused way, helping the Board of Directors to make quick and effective decisions.

Viindoo is a comprehensive software solution for all departments from Sales, Purchasing, Customer Service,... Reasonable software price, even a small business like us can do it. Professional transfer team, all employees can apply immediately after 5 hours of training.

​Business Management and Technology Blogs

To be successful your content needs to be useful to your readers.
Start with the customer – find out what they want and give it to them.
Ready to experience?
Let started NOW with basic modules. Expand your settings at anytime.